Culinary enjoyment at Restaurant Oosth
After a day in the natural surroundings of Denekamp, ​​it is nice to stay at Restaurant Oosth. You can relax in the lounge. Treat yourself to a good glass of wine with accompanying amuse.



Have you come to rest in the cozy fireplace and would you like to continue the evening with a culinary touch? Restaurant Oosth offers you a choice of surprising à la carte dishes.

You can then enjoy the last hours of the day on our heated terrace at Nicolaasplein.
Enjoy culinary at home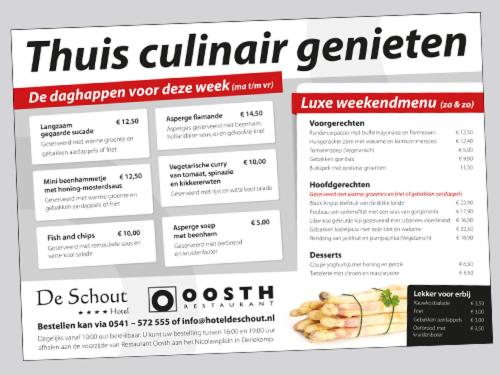 See
here
the daily menus and luxury weekend menu for week 15.
Lunch card
Dinner card
Other possibilities
In addition to the attractive restaurant, Hotel De Schout has two multifunctional rooms, suitable for meetings, separate lunches, coffee tables, wedding parties, dinners or party evenings. For more information, choose:
Parties & Parties.
Restaurant Oosth is open 7 days a week from 10.00.